otaku_mama
Halloween is my favorite holiday EVER. Costumes. Candy. Running around the neighborhood wreaking havoc with shaving cream and rotten eggs. Supersoakers full of p.... <-- Whoops! Forgot I was "a dolt" now. Need to be responsible and stuff. *nods*
But luckily, costumes and candy are still a go!
So last year my Ezri said she wanted to be "Super Starbucks Ezri with the power to Caffeinate Mommies" which I would just like to add I thought was an AWESOME super power!
"Super Starbucks Ezri" was her super hero name she picked all on her own and I had the costume all planned. A green barrista apron cape and a cup on top of a straw like a wand, and baby sister was gonna be "Java Chip Kira" but alas...
Barbie. She changed her mind and decided to be Barbie from the Diamond Castle movie. Baby sister Kira was Minnie Mouse and mommy thought they were adorable.
EDIT: I was mistaken! Ezri was a bumblebee at pre-school and Angelina Ballerina for trick-or-treating and Kira was a ladybug. However, this comment still applies--> (and boring just like all the rest of the little girls).
This year I was determined that they would not be like every other kid in a princess costume. They wear those every day!
Then comes along "Glee" and their Lady Gaga episode, "Theatricality".
Ezri took one look at Rachel's stuffed animal dress and fell in love.
I should probably mention that both my girls (still ages 4 and 2 as I post this) LOVE Lady Gaga. They sing along, emulate the dance moves from her videos, and will NEVER LET ME CHANGE THE CDs in the car. They freak out and I just can't be bothered with fighting them over it most of the time. I will be very glad when her new album is released, though.
Stuffed animals in a size that is reasonable to cover a 32lb girl are not easy to come by. They had to be the mini beanies like you get in McDonald's Happy Meals and I didn't want to spend lots of $$. It took me over two weeks to round up enough and trips all over the island to every thrift store I could find in Suffolk and Nassau county.
I also had to find some kind of dress to attach them to. But who knew they just don't make spandex dresses in 3T? So, I had to find another way. I ripped the seams from a long black camisole/tank I had and using just the back, reassembled it into a mini dress. I had to shorten it (even though it was only a shirt since my love is so tiny) and attach & reinforce shoulder straps. The weight of the animals would make the dress pull away from the body so it had to be as tight as possible. I wish I had a picture. Suffice it to say that Daddy was not pleased with the dress being skin tight black with lace hem and shoulder straps. LOL
Then it was just sewing every single stuffed animal to the dress in a way that it was as covered as could be and the animals didn't droop. I had Ezri try it on and then filled in all the gaps with some finger puppets (severed heads). It's pretty heavy and it looks like this:
Front: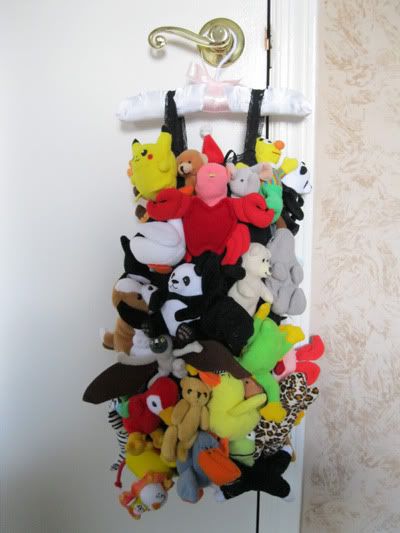 I tried to put the flattest animals on the back so she could sit. It seems to work for her and she's my princess and the pea girl.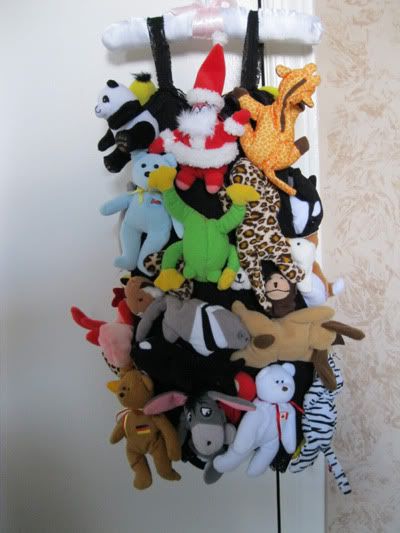 I used a bat glued to a headband for her hair. I thought the bat was reminiscent of a bow and was also perfect for Halloween.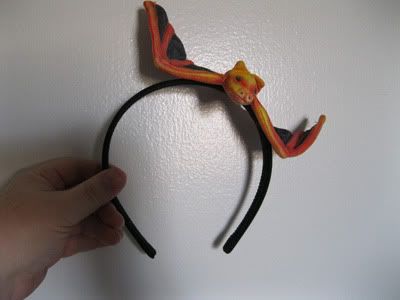 At her kindergarten party: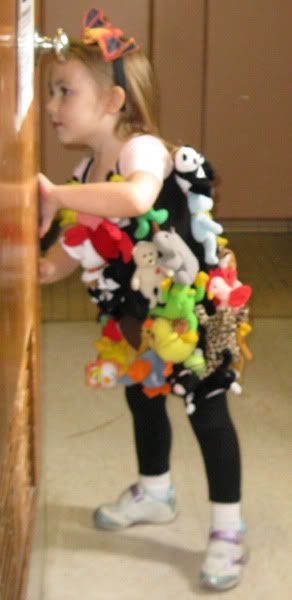 walk walk fashion baby

And now she randomly wears it around the house!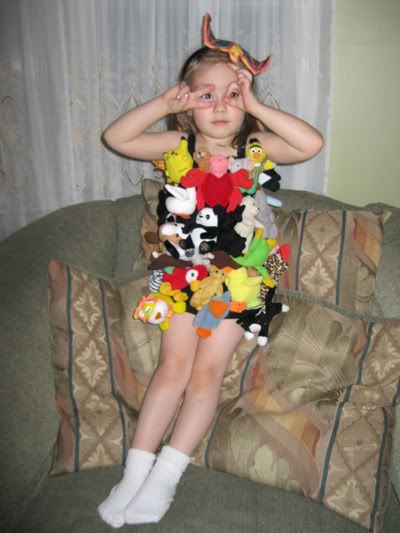 Edited Dec 1, 2010